"How to Succeed in Business…" Round Up: Appearances and Film Possibilities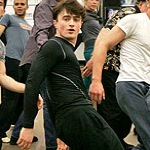 Mar 05, 2011
News continues to pour in about "How to Succeed in Business Without Really Trying", the Broadway musical in which Daniel Radcliffe (Harry Potter) stars as a lead. The musical is currently in previews at the Al Hirschfeld Theatre and opens on the 27th of March. Following our recent "How to Succeed…" roundup, here is a brand new roundup of the latest news about the musical.

The LA Times has a short blog post
highlighting the brief hiatus Radcliffe will take from the musical on
the 7th, 8th and 9th of July as he promotes "Harry Potter and the
Deathly Hallows: Part 2″. "The producers of the Frank Loesser musical
will not hold performances on July 7, 8 and 9″, reports the newspaper. As we told you earlier this week, the World Premiere of "Deathly Hallows: Part 2″ will be held in London on the 7th of July 2011. Find the LA Times blog post at this link.

Television Appearances
The actor will appear and perform on NBC's TODAY Show
on Tuesday the 15th of March, but there is no news yet as to what
number he will be performing from "How to Succeed…" and with whom. The
TODAY Show airs between 7 and 11am.
Radcliffe will also appear on Live! With Regis and Kelly on the 17th of March. Thanks to our Order Partner DanRadcliffe.com for the heads up!
No date for its release has been announced yet but news reporter Katie Couric did a segment for CBS Evening News with Radcliffe, and uploaded a photo to her website, which you can see at this link.
Couric writes in a caption: Last week I interviewed Daniel Radcliffe,
who said "Only epigrammatic people should be on Twitter".

Interviews
Radcliffe spoke to The New York Times about his role in the musical. Find the full article here on The New York Times' website. Of his choice to do this particular musical, Radcliffe said:

I think to a lot of people it's a slightly confusing choice (…) but I like that. (…) If you're enthusiastic enough about stuff " even if you're not good at
it " your enthusiasm will get you to the point where people allow you to
do it enough so that you become good at it
The newspaper also spoke to Gary Oldman (Sirius Black) who said of Radcliffe:
He realizes that once ˜Potter' 's finished, he is in the marketplace
with all those actors who are going up for the same job (…) And just because he's been Harry Potter for 10 years doesn't mean
a thing.
Director David Yates commented further:
Despite Mr. Radcliffe's outsize stardom, "he'd be more
comfortable being one of the boys' whether helping a film crew clean up
after a late-night shoot or deciding to star in a Broadway musical. "His way of dealing with it' Mr. Yates said with a laugh, "is to try
and pretend that he's normal, and dance with everybody else."
Radcliffe lastly spoke about the passing of any sadness about the end of the Potter films, "having shed his tears when the majority of his filming was completed last summer":
For me I'm done, I'm finished (…) People have to remember, we
are not mourning the death of an actual person. There is not an
appropriate grieving period which I have to observe.
Check out the full New York Times article here.
British newspaper The Daily Mail also spoke to Daniel Radcliffe in an interview in which Radcliffe mentions in passing talk between him and producers Craig Zadan and Neil Meron about adapting the musical for a film.
Joking about a scene in the musical where he jumps up and down on a sofa, Radcliffe comments on the night's preview performance, "we had an intelligent audience in tonight (…) They got the
Tom Cruise reference."
About his rehearsals, keeping his energy up and his big numbers, Radcliffe comments:

Sometimes I was dancing for nine hours a day when I wasn't filming (…) The
thing was to keep practising and practising until you could do it
without thinking about it. The aim was to be effortless " or to appear
to seem effortless. I'm doing this for nine months, and I did Equus for five months here
and that felt like a long time. I was exhausted after that, so I have to
learn to keep my energy levels up with diet and exercise.
The
rest of the cast work tremendously hard, but I have just two big
numbers " Grand Old Ivy and Brotherhood Of Man " and there's a lot of
dancing and singing. They're exhilarating to do and I love that this is
so different from everything else I've done. I'm not repeating myself.
Read the rest of the article here on the Daily Mail website.
Find full details about the musical, getting tickets and more via the official "How to Succeed…" website, at this link.