Yahoo! Debuts Four New "Deathly Hallows: Part 1" Features and Interviews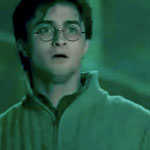 Apr 13, 2011
Yahoo! has debuted four new behind-the-scenes features from "Deathly Hallows: Part 1" and interviews with the cast.
A fun feature about the Weasley family can be seen here. James and Oliver Phelps (Fred and George Weasley) recall the first time they met their on-screen mom, Julie Walters (Mrs. Weasley), while Bonnie Wright (Ginny Weasley) reflects on the influence director Chris Columbus had on the Weasley family in the first two films.
Meanwhile, Yahoo! UK has clips including the cast discussing memorable moments, growing up on set, and Nick Moran (Scabior) revealing some movie magic secrets. These 3 clips can be seen here.
Updated Video Links:

Ministry of Magic Atrium
Growing Up in Hogwarts
Most Memorable Moments
The Weasleys
Thanks to iheartrw for the tip!