"Deathly Hallows: Part 2″ Soundtrack to be Released July 12, 2011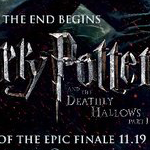 Apr 02, 2011
An online catalog listing for Warner Bros. Watertower Music has revealed that the soundtrack for "Harry Potter and the Deathly Hallows: Part 2″ will be released on July 12, 2011.
The tracklisting and cover art have not yet been announced. The score for "DH: Part 2″ will be composed by Alexandre Desplat, who also worked on "Part 1."
Thanks to SnitchSeeker for the tip!