Reminder: Nine Days Left to Donate to Accio Books! Help Build a Library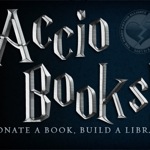 Apr 22, 2011
There are only nine days left to take part in the Accio Books Fundraiser, the HP Alliance's annual book drive which has donated over 50,000 books to date. As readers will recall, the HPA aims to build an entire library of books in partnership with the Bedford-Stuyvesant New Beginnings Charter School (BSNBCS) in Brooklyn, NY to build the "Imagine Better" Library for their students. To find out how you can donate books or get further involved with the cause, please read more here.
Additionally a number of members of the community and effort have joined in to offer these awesome prizes to those who donate the most books under a particular Hogwarts House:
Two free LeakyCon 2011 registrations are offered by Leaky's own Melissa Anelli, Head of Gryffindor House at the Accio Books campaign, to the person who receives the most points for Gryffindor House as part of the campaign.
An outgoing voice mail message by the bestselling author John Green to the Hufflepuff who donates most books.
A free book car of Holly Black to every single Slytherin who donates
Full details and house point tracking forms can be found via this link.
Donate now!