Watch Now: 7pm E.T. Live Stream of "Deathly Hallows: Part 1″ DVD Release in New York City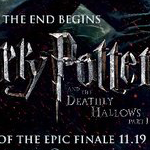 Apr 04, 2011
As we told you last week, MTV will be live streaming from the red carpet of the "Deathly Hallows: Part 1″ DVD launch in New York City. That live stream, which starts at 7pm ET (12am GMT) can now be found below. Leaky is on the scene of the DVD launch at the Discovery Times Square building to cover the event with the following cast members expected to attend:
Sir Michael Gambon
(Dumbledore), Robbie Coltrane (Hagrid), Helen McCrory (Narcissa Malfoy), Bonnie Wright (Ginny Weasley), James and Oliver Phelps (Weasley twins), Dohmnal Gleeson (Bill Weasley), Mark Williams (Arthur Weasley), Evanna Lynch (Luna Lovegood), David Thewlis (Lupin) and Natalia Tena (Tonks). Producers David Heyman and David Barron will also be present.
MTV is giving fans a chance to ask the stars a question, and you can submit that question via MTV.com or by using Twitter @MTVNews and hashtag #askpotter.
While you're over there, don't forget to follow @Leaky on Twitter!
You can watch the live stream below or on the MTV website: