Leaky's Coverage of Harry Potter: The Exhibition Opening, Round Table, and Q&A Session with Harry Potter Cast and Crew (Updated, with Images and Video)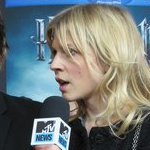 Apr 05, 2011
This evening, the red carpet opening for Harry Potter: The Exhibition took place in New York City. A number of Harry Potter cast members, along with the filmmakers, were on hand to welcome the touring display of Harry Potter film props and memorabilia to New York. Leaky was on the scene, and took part in a number of events today with the cast members, including a round table discussion and a Q&A with the cast. Full information and quotes will be online shortly, but tonight the first photos from the event are available here in the Leaky Galleries and online via Getty.
Attendees included actors Clemence Poesy (Fleur), Domhnall Gleeson (Bill), James Phelps (Fred), Oliver Phelps (George), Robbie Coltrane (Hagrid), Freddie Stroma (Cormac McLaggen), Natalia Tena (Tonks), David Thewlis (Lupin), Evanna Lynch (Luna), Warwick Davis (Griphook), Helen McCrory (Narcissa), Bonnie Wright (Ginny), Mark Williams (Mr. Weasley), and Michael Gambon (Dumbledore). Producers David Barron and David Heyman were also in attendance.
Update: You can now find lots of new photos from both the Q&A and last night's red carpet DVD launch right here in the Leaky Galleries! Even more will be coming your way soon.
The MTV videos from the DVD launch are now up in our video galleries, at the links below.
Interviews from the NYC Red Carpet Premiere of the "Deathly Hallows: Part 1″ DVD:
The MTV press junket from the Red Carpet Premiere can be found at this link and MTV's sneak peek at the just opened Harry Potter: The Exhibition at Discovery Times Square can be seen here in our video galleries.
Stay close to Leaky for more from last night as well as a report on Harry Potter: The Exhibition!