Oshkosh Public Museum to Host Month-Long Potter Celebration in July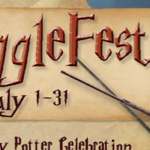 May 10, 2011
Oshkosh Public Museum in Wisconsin, USA is to put on MuggleFest, "a month-long Harry Potter celebration", from the 1st to the 31st of July this year. A press release issued by the museum explains:

As part of the festival, visitors will be able to explore the recreated
world of Harry Potter and collect house points, meet characters from
the stories, view props and replicas from the Harry Potter movies and
join in crafts and activities. From predicting the future in Divination
to the quite serious task of de-gnoming the gardens, each day of
MuggleFest is full of magic.
Additionally, a Harry Potter costume contest will take place on the evening of the 14th July, counting down the hours to the release of "Harry Potter and the Deathly Hallows", as well as a "magical birthday bash", which will take place at the museum on the 31st of July in honour of Harry's birthday.
Oshkosh Public Museum is looking to fill three paid positions of exhibit actors as popular Harry Potter characters. Auditions will take place at the museum on the 19th, 20th and 21st of May and are open to anyone aged 16 and older. You can find out more details about the auditions and the festival itself here on the Oshkosh Public Museum website.