Rupert Grint Joins UK's Make Mine Milk Campaign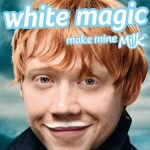 May 12, 2011
Actor Rupert Grint was recently revealed as the latest spokesperson for the Make Mine Milk campaign in the U.K.
The Make Mine Milk campaign, "aims to wake the nation up to all that's great about milk, reminding people that low-fat milk contains less than 2% fat, and being nutrient-dense, it's also extremely healthy."
A photo of the Ron Weasley actor sporting a milk mustache for the campaign has been sighted on buses around the U.K. and in national newspapers and magazines.
As for his own milk-drinking habits, Grint says:

"I come from a big family and my mom always made sure we had lots of milk to drink as kids. It's low in fat, refreshing and good for you, and really tasty too. Nowadays I still have milk with cereal for breakfast and always try to pick up a milky cappuccino when I'm on set or on a photo shoot – it's important to get your daily dose of milk."
A video has also been released of Grint taking the Make Mine Milk challenge, in which he drinks a pint of milk in 20 seconds. Fans are encouraged to try and beat his time in order to win exclusive prizes!
Some behind-the-scenes photos of Grint's campaign photoshoot have been added here to the gallery.