Audio: Q&A Session with Vice President of Special Features for Warner Bros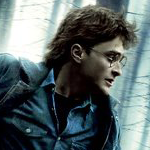 May 15, 2011
Warner Bros. have kindly passed along a link to a Q&A session conducted last month with Paul Hemstreet, the Vice President of Special Features for Warner Brothers Home Video who has overseen the enhanced content for all of the Harry Potter film releases over the past decade. The Q&A mainly discusses the enhanced content on the "Harry Potter and the Deathly Hallows: Part 1″ Blu-Ray, but also Hemstreet's experience working with the cast and crew over the last ten years.
Hemstreet describes himself as "creative producer on the projects" and notes, "a lot has changed since when this began" in terms of the process of acquiring and putting in enhanced content.

When we started with Harry Potter, DVD was so new we found we had to educate people what it was what it could do what enhanced content could be and we were more of an afterthought, whereas today we are fully embraced, fully supported from the beginning. When Harry Potter started we weren't even on the set. (¦) the windows [between filming and release] were much longer back then and we became involved when they started shooting Chamber of Secrets within a day or two.

Back then we really had to live within the world of Harry Potter, we couldn't reveal the magic. As Harry Potter aged up in the stories and the franchise, the fans grew with it, there became a new willingness and openness to learn about how things were put together. By ["Prisoner of Azkaban" we were able to have more in depth conversations] when we actually got an interview with Alfonso Cuarón and J.K. Rowling, and that has involved to the point where in "Deathly Hallows" we had a team in place at Leavesden Studios on set every day. A crew who could be called at a moment's notice.
Have a listen at this link. Many thanks to Warner Bros. for passing this on!