Images from Empire Online "Deathly Hallows: Part 2″ Feature Online, Magazine on Newsstands Thursday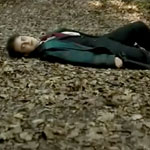 May 23, 2011
Empire Magazine has posted images from their forthcoming Ultimate Movie Celebration of Harry Potter combined issue that feature new looks from the upcoming "Harry Potter and the Deathly Hallows: Part 2″ film. Available to view via this link, the images show our now-adult trio on the cover of Empire Magazine, as well as a shot from the special insert also featuring Harry, Ron, and Hermione. This special supplement will total 36 pages of additional material about the last Potter film. The magazine notes:

The Ultimate Movie Celebration of Harry Potter that's free with this month's issue combines exclusive photography, a plethora of interviews with the key cast and crew, and never-before-seen behind-the-scenes images from the Warners vault to bring you the untold story behind all eight films. Inside the magazine, meanwhile, we have an oral history of filming on Harry Potter And The Deathly Hallows Part 2's massive Battle of Hogwarts.
If you're able to get your hands on a copy of the magazine, please do email [email protected]!