30 June Edition of The Quibbler Now Online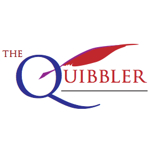 Jul 01, 2011
The 30th June issue of The Quibbler,
Leaky's monthly publication for "all the news you won't find anywhere else",
is now available for download. This month's issue marks the 3rd anniversary of Leaky's online edition of The Quibbler, before you rush out into the Great Outdoors for camping this summer, be sure to read Professor Longbottom's common sense warnings about dealing with trees.
You can download a PDF version of The Quibbler at this link or find the zipped file version right here. You can also have a read of past Quibblers via this link.
If you are interested in contributing to future issues of The Quibbler, the guidelines and instructions for submissions can be found at this link.
Many thanks once again to the creative team behind The Quibbler,
made up of DorisTLC, Dreamteam, Evreka, Iheartprofessorsnape, Janemarple9, Lirene, paint it Black, Rudius
Hagrid, SeverineSnape, Songbird, Snapes-Sister, wordsaremagic and this issue's
guest contributor: Julian.
Happy reading!