Warner Bros. Releases Visitor's Information For U.K. World Premiere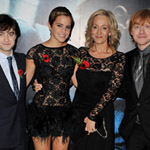 Jul 01, 2011
The world premiere of "Harry Potter and the Deathly Hallows: Part 2" is just a short week away, and no doubt many of you are already making plans to attend this grand event in London's Trafalgar and Leicester Squares on July 7.
To help make the planning process easier, Warner Bros. has put together a website with essential information for fans. Details on transportation and getting to the location, red carpet information, access to the public viewing areas and much more is listed right here.
Please note that all red carpet activity will be taking place in Trafalgar Square, and in order to gain access to the public viewing areas, you must acquire a wristband.Wristbands will be handed out from the upper terrace of Trafalgar Square beginning at 10 a.m. on Wednesday, July 6.
Thanks to Portkey.it for the tip!