New Stills of "Deathly Hallows: Part 2," Including the Boathouse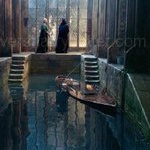 Jul 06, 2011
We have some new behind the scenes images that were taken during the filming of "Deathly Hallows: Part 2," which includes a look at the boathouse created for the movie. You can see that image here.
Other stills include part of Voldemort and Harry's confrontation, David Thewlis (Remus Lupin) and Alan Rickman's (Severus Snape) last day on set, and director David Yates talking to Emma Watson (Hermione Granger) and Rupert Grint (Ron Weasley) on the Hogwarts set. See these and more here in our galleries.
Many thanks to UniversHarryPotter!