New York's Museum of the Moving Image Hosts "Seven Nights With Harry Potter"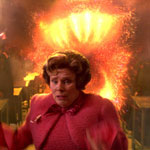 Jul 06, 2011
New York's Museum of the Moving Image are hosting "Seven Nights with Harry Potter", big screen showings of the first seven Harry Potter films, from the 6th July to the 13th July. As we let you know earlier today, ODEON Cinemas in the UK is to host a similar film marathon. A press release issued by the Museum writes:

The first seven films in the series, which have earned approximately $6.4 billion worldwide, will be shown in 35mm studio prints from Warner Bros. Pictures. The screenings will take place in the Museum's beautiful new 267-seat theater.

Tickets for each film are $12 public/$8 Museum members / Free for Red Carpet Kids and Silver Screen members and above. A series ticket is available for $50/$35 Museum members. Tickets are available online at movingimage.us, or by phone at 718 777 6800.
The Museum of the Moving Image can be found at 36-01 35 Avenue (at 37 Street) in Astoria and can be accessed by the R or M trains (R on weekends) to Steinway Street or the N or Q trains to 36 Avenue. For more information, have a look at the Museum's official website.