ODEON Cinemas' Seven Night Harry Potter Film Marathon 8th-14th July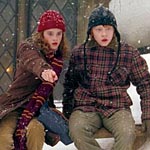 Jul 06, 2011
The UK's ODEON Cinemas will be showing all seven Harry Potter films over seven nights, beginning on the 8th July until the 14th July, just in time for the release of the eighth film on the 15th July. "You can book one, or all seven of the Harry Potter films – so don't miss
out, let Harry Potter cast its spell over you once again…" and, adds the ODEON website:

Tickets
for these 7 Harry Potter films are now priced at only £3! Additional
charges will apply for 3D tickets and Premiere seating. If you have
already purchased your tickets you can claim a refund on the difference
in ticket price. To claim your refund, take your booking confirmation to
the ODEON Box Office or call 0800 88 89 50 between 11am – 8pm and speak
to an operator.
The following cinemas will be taking part in the Harry Potter marathon:
Bath
Blackpool
Bournemouth
Bracknell
Braehead
Brighton
Cardiff
Chelmsford
Coventry
Dunfermline
Greenwich
Guildford
Hatfield
Kettering
Kingston
Leicester
Lincoln
Liverpool One
London – West End
Manchester Printworks
Mansfield
Metrocentre
Newcastle East – Silverlink
Norwich
Oxford George Street
Tunbridge Wells
Uxbridge
Warrington
Wimbledon
Wrexham
Find out more details at this link.