Leaky's "Deathly Hallows: Part 2" World Premiere Video Footage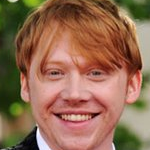 Jul 07, 2011
The first of Leaky's red carpet videos from last night's World Premiere of "Harry Potter and the Deathly Hallows" in London's Trafalgar Square is now online in our galleries. This video features Rupert Grint (Ron Weasley), Jason Isaacs (Lucius Malfoy) and Matthew Lewis (Neville Longbottom) and can be found at this link.
Two more videos are also now available, the first featuring interviews with Clémence Poésy (Fleur Delacour), Julie Walters (Molly Weasley), Tom
Felton (Draco Malfoy), Helen McCrory (Narcissa Malfoy), and David Barron can be seen here. Natalia Tena (Nymphadora Tonks), Devon Murray (Seamus Finnigan) and Alfie Enoch (Dean Thomas) also stopped by for a chat and that video is available at this link.
Stay close to Leaky for more videos and red carpet footage! This post will be updated as more videos come in.