Additional Info on Magical Quill Challenge from Pottermore Blog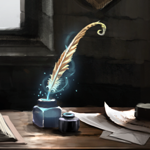 Aug 01, 2011
The Pottermore Insider Blog has answered some questions regarding the Magical Quill challenge, including what time the third clue will be released:
I have seen Pottermore early access accounts being sold online on
places like eBay. Is it okay to buy or sell Pottermore accounts?
No. Please do not buy, sell, or transfer Pottermore early access
accounts.
Obtaining Beta registration for Pottermore with the intent of
selling on those
registration details for monetary gain not only
deprives genuine fans the chance to gain early access, it is also
expressly prohibited in The Magical Quill promotion Terms & Conditions.

We have the right to terminate any Pottermore accounts that are sold online.
Access to Pottermore is, and always will be, completely free so please
don't be tempted by people selling Pottermore accounts online. You will
only be wasting your money – and there are still more clues and chances
to come!
Can you give me a hint as to when the next Pottermore clue will be released?
We know that many of you waited through the night for the first two
clues to be posted on Pottermore.com. Although we can't tell you exactly
when the clues will be released – they will all be posted at different
times – we can tell you that tomorrow's clue (Clue 3) will be posted
some time between 9.00am and 1.00pm BST.
I registered for early access yesterday with a Yahoo email address
and have yet to receive my verification email. What's happened to my
email and will I still be able to verify in time?
There is a delay with verification emails going out via Yahoo! Mail and
related providers (such as BT Yahoo!), which means that, while emails
are being sent out, they are being delivered at a greatly reduced rate.
We are currently talking to Yahoo in order to resolve this problem and
will update this blog post with new information as we get it.
I found The Magical Quill and submitted my details to Pottermore, but
I haven't received a registration validation email. Where is it?
If you entered your email address correctly, you should receive your
registration validation email quickly ' and almost always within a day.
When this arrives, you must click on the link in the email to complete
the registration process. If you did enter your address correctly and
still haven't received anything, it may be that your email provider is
still processing your email.
What happens if I don't click on the link in my registration validation email?
To complete your registration you must click on the link in the
validation email within 48 hours of submitting your details to the site.
If you don't, your registration will be invalid and you will need to
start the registration process again.
Once I've clicked on the link in my registration validation email, will I be able to access Pottermore?
We will not be enabling early access to the site straight away. Once The
Magical Quill challenge is over we will begin to send Beta registrants
Welcome emails as and when they will be able to have full access to the
site. We won't be able to let everyone into the Beta site at the same
time, so you may have to wait a number of weeks for your Welcome email
to arrive. However, if you have been successful in registering during
The Magical Quill challenge, we can confirm you will gain access ahead
of the site opening to all in October, so please be patient!
For your reference, 9:00 am BST is 4:00 am EST and 1:00 am PST. Read the answers to more of your questions here. Good luck to everyone looking to find the magical quill!