J.K. Rowling Talks About "Who Do You Think You Are?" Episode with Radio Times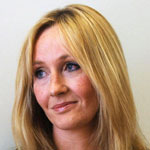 Aug 01, 2011
Author J.K. Rowling recently gave an interview to Radio Times magazine in conjunction with her upcoming episode for the BBC show, "Who Do You Think You Are?"
As Leaky reported in June, Ms. Rowling decided to appear on the show to trace her mother's French ancestry. Excerpts from her interview were published by the AP and can be seen below:

Rowling told the Radio Times that the experience was an upsetting and emotional one. She said taking part in her genealogy research made her so emotional that she cried several times.

"There were a lot of big surprises, some wonderful, and one rather upsetting," she said in an interview.

"However, I went into the program wanting the truth, no matter what it was, because I knew so little about my French ancestry, and I don't regret a moment of it. I loved the whole experience," she added.
She said that she has undertook the project because her mother Anne Volant, who died in 1990, was very interested in her French roots but never got the chance to explore them.

"A huge motivation in looking into my family history is my mother. It's very much bound up in that loss," she said.
J.K. Rowling's episode of "Who Do You Think You Are?" is expected towards the end of this month.