Video: Teaser Trailer for "The Woman in Black"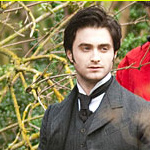 Aug 17, 2011
A teaser trailer has been released for Dan Radcliffe's (Harry Potter) upcoming horror film, "The Woman in Black." You can watch the trailer here or below.
The official site for "The Woman in Black" is now also available. As of right now the site only has a few stills of the movie and the movie's synopsis, which is as follows: "A young lawyer (Radcliffe) travels to a remote village where he discovers the vengeful ghost of a scorned woman is terrorizing the locals."
"The Woman in Black" will be released February 2012.