August's Rita Skeeter Writing Contest Announced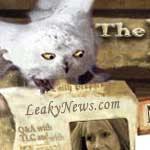 Aug 04, 2011
Our Contest Crew has announced their August contest: the Rita Skeeter Writing Contest. This contest asks you to write a wedding article for Luna Lovegood and Rolf Scamander as Rita Skeeter herself might write it.
All submissions
must be e-mailed to [email protected] by 11:59 pm (EDT) on
31 August, with "Rita Skeeter article" in the subject line of the
e-mail. Please be sure to copy and paste your article into the body of the email and include a name for authorship. You can use your real name or your Leaky Lounge name. Submitted articles must be no more than 350 words.
The contest is open to anyone 13 years of age and over, including staff
members who are not involved in the judging process. Please only enter
one entry per person and please do remember that all entries must meet
PG-13 standards of decency and good taste.
The first place winner will receive a handcrafted wand as well as a copy of The Pracitioner's Guide to Wand Magic by William C. Wilson (both donated by Wizard Wood Wands) and 200 MyLeaky Points. You can find the FAQ for the contest here and the General Rules for the contest here.
Good luck!