Pottermore Blog Updates With Info on Verification Emails and Day 6/Day 7 Clue Times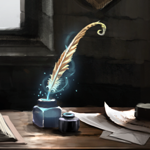 Aug 04, 2011
The Pottermore Insider Blog has updated their FAQ again to answer questions about sharing Pottermore accounts, verification emails, and the clue times for the last two days of the Magical Quill Challenge:
I have a friend who wants to use my Pottermore account. Is it okay to share my password?
Your Pottermore account is for your personal use only. You should never
divulge your Pottermore password to anyone because it protects your
personal information from potential misuse and identity theft. By
creating an account on Pottermore, you confirm that you will treat your
login details as confidential. If you would like more information,
please see our Terms & Conditions.
I haven't received my verification email yet; has there been a delay in sending these out?
Earlier in the week, there was an issue with Yahoo! Mail and some
related services, which meant that some validation emails were taking
longer than normal to arrive. This issue has now been resolved. However,
we have been unable to deliver validation emails to approximately one
in ten of the email addresses supplied to us due to them being mistyped.
If you have not received a validation email within 48 hours of
submitting your details to Pottermore, you should assume that we have
been unable to deliver your validation email to you, and you will need
to register again.
Please be very careful when entering your email address; don't forget to double-check it before you click ˜Continue'!
UPDATED: So far, all the clues have appeared in the early hours of
the morning in my time zone. Will this continue for the remainder of The
Magical Quill challenge?
We know that Harry Potter fans around the world are taking part in the
challenge, so we will be varying the times that the clues are revealed.
We can tell you that tomorrow's clue (Day 6) will be released between
1:30pm and 4.00pm BST, and the final clue (Day 7) will be released
between 12:30am and 3:00am BST on Saturday 6 August.
For your reference, 1:30 pm BST is 8:30 am EST and 5:30 am PST, while 12:30 am BST is 7:30 pm EST and 4:30 pm PST. You can read more of the FAQ here. Good luck everyone!