Winners Announced for the Rita Skeeter Writing Contest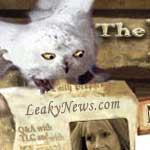 Sep 12, 2011
Last month, Leaky's contests team launched the Rita Skeeter Writing Contest in which fans were given the opportunity to write as Rita Skeeter who was assigned to cover the wedding of Luna Lovegood to Rolf Scamander.
Some wonderful entries were received, and the seven winners have been picked! Click on their names below to read the winning entries.
First Place: AubNoelle
Second Place: Amy Staniszewski
Third Place: Kneazel Tamer
Honorable Mention: Auric
Honorable Mention: katandcon
Honorable Mention: LadyBlack
Honorable Mention: Hayley Whelan
The first place winner will receive a handcrafted wand and a copy of the book The Practitioners Guide to Wand Magic by William C. Wilson, both donated by Wizard Wood Wands, as well as 200 MyLeaky points. Congratulations to all who won!