Harry Potter: Page to Screen Book Trailer Released Online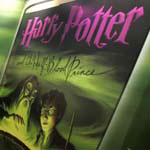 Sep 19, 2011
A trailer detailing the creation of the upcoming retrospective book on the process of taking the Harry Potter novels to the big screen, Harry Potter: Page to Screen, has been released and can be viewed right here. The two and a half minute trailer looks at moments from filmmaker's journey of turning the novels into films, and gives us a glimpse at what to expect in the book. Harper Collins, the publishers of the book, say:

Harry Potter: Page to Screen opens the doors to Hogwarts castle and the wizarding world of Harry Potter to reveal the complete behind-the-scenes secrets, techniques, and over-the-top artistry that brought J.K. Rowling's acclaimed novels to cinematic life. Developed in collaboration with the creative team behind the celebrated movie series, this deluxe, 500-plus page compendium features exclusive stories from the cast and crew, hundreds of never-before-seen photographs and concept illustrations sourced from the closed film sets, and rare memorabilia. As the definitive look at the magic that made cinematic history, Page to Screen is the ultimate collectible, perfect for Muggles everywhere.
Harry Potter: Page to Screen is set for release on October 25.