Radcliffe and Rowling on the Harry Potter Generation: "Deathly Hallows: Part 2″ Blu-Ray Special Feature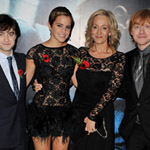 Sep 21, 2011
MTV have released another clip from the upcoming Blu-Ray DVD of "Harry Potter and the Deathly Hallows: Part 2″ in which J.K. Rowling and Daniel Radcliffe talk about the Harry Potter generation in contrast with other phenomenon. The clip, which is region locked for everyone outside of the US, can be seen here on the MTV website or below.
Radcliffe says:

To a certain level, because [the characters in the books] exist in the collected consciousness of a generation, they do exist. I always think that's one of the wonderful things about Potter and the Potter fanbase. If you think about the other big costume-wearing and that kind of stuff that goes
with it, things like Star Wars and Star Trek, but with it's Potter, because
it started off as a literary thing, has created a generation of the
same kind of mentality of geeky thoroughness with an appetite for reading and literature,
which is kind of amazing.
Harry Potter author J.K. Rowling's extremely accurate response is, "It was wonderful, wasn't it? It was just the most wonderful thing". The Blu-Ray will be released on the 11th November in the US.
style="background-color:#000000;width:368px;">style="padding:4px;">
Get More: Movie Trailers, Movies Blog