Pottermore Shop Now Open, Harry Potter eBooks and Digital Audio Books Available for First Time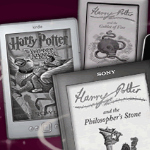 Mar 27, 2012
The official Pottermore shop was launched this morning, marking the first time that the Harry Potter books are available to buy in an eBook and digital audio book format.
This will be the only place to purchase digital copies of the Harry Potter series, which will be available in all formats for eReaders, tablets, smartphones and mp3 players.
The eBooks for Years 1-3 are available for $7.99, while Years 4-7 are priced at $9.99. Or, the complete series can be purchased for $57.54.
Digital audio books for Years 1-3 will cost $29.99, and Years 4-7 is priced at $44.99. The complete Harry Potter audio collection can be purchased for $ 242.94.
Even though the Pottermore shop is now open, Pottermore remains in beta. It's expected to open to everyone in April.