The Potter Trail: Edinburgh's New Harry Potter Tour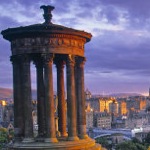 Jun 11, 2012
A new 90-minute Harry Potter walking tour has been created in the city of Edinburgh. As some fans may know, J.K. Rowling completed much of the Harry Potter series in Edinburgh and still lives there to this day. Because of the city's large connection to the Harry Potter series, The Potter Trail was created to take fans on a "dedicated" walking tour of sites where J.K. Rowling wrote and sites that inspired settings of the books. The tour was also organized to help support Edinburgh's status as a "World City of Literature", a title given to the city in 2004. The Potter Trail is set to launch this year during the city's annual Fringe Festival. The Potter Trail creator, Stuart Young, explains:

"I've always thought there was a gap in the market for Harry Potter fans. Although Harry Potter is often mentioned on other tours, there's never been a tour dedicated to the books.
"Despite Rowling writing many of her books in Edinburgh, Potter devotees are not well catered for, with only a couple of cafes espousing their connections.
"I hope to change that with a comprehensive tour covering all the important sites, with an entertaining and interactive style."
Important sites pertaining to the novel are set to include:
[…the] two cafes where the author sat to pen her debut book, The Elephant House and the former Nicholson's Cafe.
Tourists will be taken into Greyfriar's Kirkyard to view the grave of father and son Thomas Riddell ' said to be the inspiration for Lord Voldemort's ancestors and known in the books as the scene of the rebirth of the world's most evil wizard.
Also buried in the cemetery is poet William Topaz McGonagall, who lent his surname to strict Scottish teacher Minerva McGonagall.
Around the corner, visitors will be taken to the inspiration for Hogwarts School of Witchcraft and Wizardry, George Heriot's School, while magical shopping street Diagon Alley is, in reality, nearby Victoria Street.
The tour will not be endorsed by J.K. Rowling or Warner Bros. More about the tour can be read here and here.