Wizarding World's New Merchandise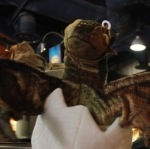 Aug 16, 2012
The Wizarding World of Harry Potter has a new selection of robes and stuffed animals in Hogsmeade stores. Voldemort, Snape, and Dumbledore robes are now available, as well as Hermione's Yule Ball gown. New stuffed animals include Baby Norbert and a selection of owls.
Dumbledore's robes


Snape's robes


Voldemort's robes


Hermione's Yule Ball gown


Owls


Norbert


Thank you to Daily Quibbler for the heads up!