Helena Bonham Carter Receives CBE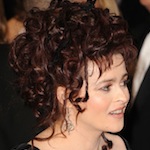 Jan 02, 2012
Helena Bonham Carter (Bellatrix Lestrange) has been made a "Commander of the British Empire":
Bonham Carter received a CBE, or Commander of the Order of the
British Empire award — one step below a knighthood — after the most
successful year of her career, capped by her performance in "The King's
Speech", the hit film about the stammering king George VI.
She dedicated the honour to her father, who spent the last years of
his life severely disabled after an operation to remove a brain tumour
went wrong, and joked that it could lead to changes at home.
"I am wondering, does it mean I get to command? Because at the moment
it's my four-year-old daughter who does the commanding in our
household. Must inform her of the change in situation," she said.
You can read the rest of the article here.
Thanks to both Jack and Valeria-Johanna for emailing!