Interview with Oscar Nominees Stuart Craig and Stephenie McMillan On Designing Harry Potter Films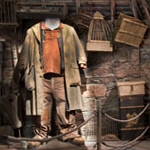 Jan 27, 2012
HitFlix blog has published a lengthy interview with Stuart Craig (production designer) and Stephenie McMillan (set decorator) following their Oscar nomination in the Art Direction category for "Harry Potter and the Deathly Hallows: Part 2." Craig and McMillan have also worked on the previous 7 Potter films.
The pair discuss how they got the job on the first "Harry Potter" film, working with different directors, building the sets for the final battle and the changes that took place throughout the series.
The complete interview can be read at this page, while some excerpts are published below:

At times, the developing story meant they needed to work in particularly
new and creative ways. McMillan found the most exciting transformation
was turning the Great Hall into the setting of the Yule Ball in "The
Goblet of Fire," for which they were nominated in 2005. "How do we make
it into an ice palace," she reminisces. "Originally we thought silver
curtains, silver table cloths and an ice dance floor, but it just went
on and on. The drapes man eventually said, ˜Why not just stick the
fabrics on the wall?" While an enormous amount of work, the degree of
pleasure and pride is palatable in McMillan's voice. It therefore
shouldn't be surprising that "The Goblet of Fire" earned the duo a trip
back to the Kodak after missing for "The Chamber of Secrets" and "The
Prisoner of Azkaban."
Along with the changing story and expanding sets, the duo also had to
contend with changing directors. Criag, for one, relished the changes
that came with different men at the helm. "Each one of them managed to
find a different take," he says. "It kept the whole thing vital and
alive."
Both comment on the fact that Chris Columbus' strengths lay in
working with the child actors, while, Alfonso Cuarón (who directed "The
Prizoner of Azkaban," which signaled the change in aesthetic signature
for the series) had a very visual sense. "He wanted to make films much
more magical and he really pushed all of us' McMillan says. They also
add that Mike Newell's film ("The Goblet of Fire") was really about
teenage angst and fun. McMillan says he "liked the boarding school
aspect of it" while Craig says the director wanted to inject more humor
into the proceedings.
The Art Directors Guild will also be honoring these two individuals with an honorary award for Outstanding Contribution to Cinematic Imagery.