Steven Spielberg Recalls His Early Involvement with the Harry Potter films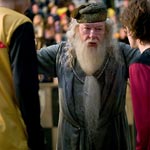 Jan 09, 2012
Digital Spy has published excerpts from an interview director Steven Spielberg gave regarding his early involvement with the development of the first Harry Potter film. Spielberg told BBC Breakfast that he was given the opportunity to direct the Harry Potter films, and worked on developing the series for 5 to 6 months with screenwriter Steve Kloves before dropping out.
"I just felt that I wasn't ready to make an all-kids movie and my kids
thought I was crazy. And the books were by that time popular, so when I
dropped out, I knew it was going to be a phenomenon.
"But, you
know I don't make movies because they're gonna to be phenomenons. I make
movies because they have to touch me in a way that really commits me to
a year, two years, three years of work."

Warner Bros president Alan Horn confirmed in 2010 that Spielberg had been offered the position, but explained that he did not share the filmmaker's wish to combine some of the books and to make an animated series.