Rupert Grint to Narrate "We Are Aliens"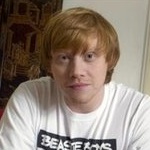 Oct 14, 2012
It has been reported that Rupert Grint will be narrating We Are Aliens, a new Fulldome show that asks the question "are we alone in the universe?". The 25-minute show will premiere at The National Space Center this October before it is released across the UK. A picture of Mr. Grint and the creators of the show can be see below. The creators of the show released a statement, saying:
Yes, Mr Rupert Grint is the narrator of We Are Aliens! Deep in the heart of London Max, Paul and one of our 3.0s met Rupert to record the soundtrack to our new Fulldome show that asks, are we alone in the Universe?
Rupert's young and charming tone is perfect for the show and we're very excited that he's been involved.
Thank you to Ice Cream Man for the tip!