First Look at Matthew Lewis in "Our Boys"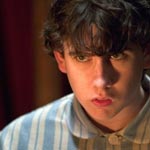 Oct 03, 2012
As reported previously, Matthew Lewis is trying his hand at theater. The first picture of this production has made its way online (and can be seen below). In the picture we see Lewis in a wheel chair, gathered around a table with his other cast mates. Bromley Times reports:
Set in 1980s Britain, Our
Boys is as relevant now as it was in 1993, when it won a Best New Play award
for its premiere production. This West End revival comes from the creative team
behind the international hit Journey's End.
Lewis, who makes his West End
debut in Our Boys, is best known for playing Neville Longbottom in the Harry
Potter films.
Our Boys is at the Duchess
Theatre now for a limited season.
The rest of the article can be read here.