Harry Potter for Kinect Now Available, New Trailer Features Fan Made Music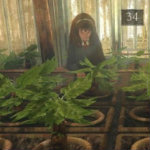 Oct 09, 2012
The newest Harry Potter related video game, Harry Potter for Kinect, is now available for purchase! Earlier this summer a contest was held inviting all musically inclined Harry Potter fans to submit their own track for the Harry Potter for Kinect trailer. Sam Dillard of Texas was chosen as the winner and you can hear Sam's music in the trailer below.
The game is priced at $49.99 and more information on Harry Potter for Kinect is as follows:

Today, Harry Potter for Kinect is now available exclusively on Kinect for Xbox 360®. For the first time, using the facial scanning feature made possible by Kinect, players will not only be able to play as their favorite characters from the series, they will also be able to create a wizard or witch in their likeness that puts them right in the game. And with controller-free and voice recognition capabilities, they will be able to cast spells, interact with professors and students, play Quidditch, and more! The game has been rated E10+ (suitable for ages 10 and older).
You can learn more about the game here.