Vanity Fair Profiles Stuart Craig's Oscar-Nominated Work in "Harry Potter"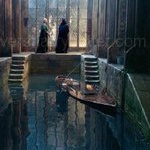 Feb 18, 2012
As part of a series leading up to next Sunday's Academy Awards, Vanity Fair is "pulling back the curtain on awards season's most visually enticing
films, revealing exclusive details of the creative process of art
directors, costume designers, makeup artists, cinematographers, and
more." Their latest profile piece is on Stuart Craig, production designer for all eight "Harry Potter films," who is nominated alongside set decorator Stephenie McMillan for best art direction.
Craig discusses the evolution of Hogwarts' appearance throughout the films, filming on location versus building a set, and how he put together the Room of Requirement. Craig also notes that a backdrop had to be painted for the Diagon Alley set in preparation for the opening of the Warner Bros. Studio Tour.
Ironically, in the aftermath of the films, some of the sets that were
rendered in C.G.I. have had to be physically re-created. For instance,
for the Warner Bros. studio tour in London, Craig says, "Diagon Alley
had a green screen at both ends in the later films. On the studio tour,
to see Diagon Alley with a green screen at the end is pretty
disappointing, and so we have painted a backing in forced perspective,
so that at least looking one way down the street, the illusion is
complete."
To read the complete piece, visit this page. Thank you to Joel and Valerie for owling with the news!