Total Film Lists the 50 Greatest Harry Potter Scenes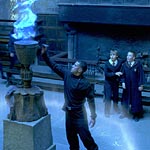 Feb 03, 2012
With eight films over a span of 10 years, it must've been pretty difficult for Total Film to come up with this list of the 50 Greatest Harry Potter Scenes. But they managed to do it, describing the scene and explaining why it's one of their top picks. From Snape's "Page 394" scene to Harry and Ron's trip in the flying Ford Anglia, there's a little bit of everything.
Check out the complete list here to find out what snagged the number one spot, and then let us know in the comments if you agree or disagree with anything!
~*~
Special announcement: Leaky is looking for news editors! If you have what it takes, email us at news [at] the-leaky-cauldron [dot] org.