Harry Potter Actors Confirmed to Attend the BAFTA Awards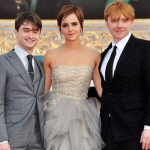 Feb 07, 2012
Several Harry Potter alums have been confirmed for the 2012 BAFTA awards. Gary Oldman (Sirius Black), Jim Broadbent (Horace Slughorn), Kenneth Branagh (Gilderoy Lockhart), and Ralph Fiennes (Voldemort) will be receiving awards, while Daniel Radcliffe and Helena Bonham Carter (Bellatrix Lestrange) will be presenting awards.
See the rest of the confirmed attendees here.
The BAFTA awards will take place February 12th. "Harry Potter and the Deathly Hallows: Part 2" is nominated for the awards of Production Design, Sound, Special Visual Effects, and Make Up and Hair.
~*~
Special announcement: Leaky is looking for news editors! If you have what it takes, email us at [email protected]leaky-cauldron.org.