UPDATED: First Look at Dan Radcliffe in "Kill Your Darlings"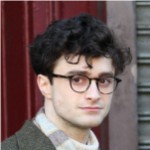 Mar 20, 2012
Shooting for Dan Radcliffe's new movie "Kill Your Darlings" began last week, and we now have a first look at Radcliffe as Beat poet Allen Ginsberg:
Radcliffe was snapped on the streets of Brooklyn [Monday] morning as he began shooting Kill Your Darlings, in which he takes on the role of Beat Generation poet Allen Ginsberg.
You can see a picture of Radcliffe as Ginsberg here in the article and have pictures of Radcliffe along with co-star Dane DeHaan as Lucien Carr here in our galleries.
Many thanks to Max and Dana for the tip! And many thanks to SnitchSeeker as well!