Dan Radcliffe and Emma Watson Nominated for Kids Choice Awards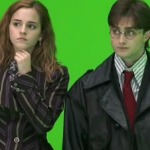 Mar 08, 2012
Dan Radcliffe and Emma Watson were both nominated for the 2012 Kids Choice Awards for Favorite Actor and Favorite Actress respectively. "Deathly Hallows: Part 2 was also nominated for Favorite Movie.
You can vote for Radcliffe and Watson here. The Kids Choice Awards will air on March 31st.
Many thanks to Dana for the tip!