MPAA Gives "Perks of Being a Wallflower" PG-13 Rating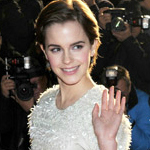 Mar 09, 2012
Emma Watson's upcoming film "Perks of Being a Wallflower," has been given a PG-13 rating by the MPAA. The MPAA had previously given the film an R rating, but this has since been changed:
Originally, the Classification and Rating Administration assigned the movie, which stars Emma Watson and Paul Rudd,
an R based on "teen drug and alcohol use, and some sexual references."
The appeals board switched that to PG-13 "for mature thematic material,
drug and alcohol use, sexual content including references, and a fight –
all involving teens."
The movie is about
15-year-old high school freshman Charlie, played by Logan Lerman, who is
taken under the wings of two seniors while he copes with his first
love, played by Watson, the suicide of his best friend and his own
mental illness.
You can read the rest of the article here. Many thanks to Dana for the tip!