Harry Potter Book Series Joining Amazon.com's Kindle Owners' Lending Library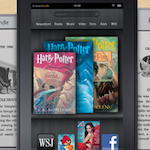 May 10, 2012
All seven Harry Potter books by author J. K. Rowling will soon be available on Amazon.com's Kindle Owners' Lending Library, where owners of the eBook device can borrow select titles right to their Kindle device without actually purchasing the book. Set to be available June 19th, Amazon.com will be releasing the books in multiple languages, including English, French, Italian, German and Spanish. The press release reads:

"We're absolutely delighted to have reached this agreement with Pottermore. This is the kind of significant investment in the Kindle ecosystem that we'll continue to make on behalf of Kindle owners," said Jeff Bezos, founder and CEO of Amazon.com. "Over a year, borrowing the Harry Potter books, plus a handful of additional titles, can alone be worth more than the $79 cost of Prime or a Kindle. The Kindle Owners' Lending Library also has an innovative feature that's of great benefit for popular titles like Harry Potter ' unlimited supply of each title ' you never get put on a waiting list."
The Kindle Owners' Lending Library now features over 145,000 books to borrow for free, including over 100 current and former New York Times Best Sellers. With traditional library lending, the library buys a certain number of eBook copies of a particular title. If all of those are checked out, readers have to get on a waiting list. For popular titles like Harry Potter, the wait can sometimes be months. With the Kindle Owners' Lending Library, there are no due dates, books can be borrowed as frequently as once a month, and there are no limits on how many people can simultaneously borrow the same title"so readers never have to wait in line for the book they want.
Just as with any other Kindle book, your notes, highlights and bookmarks in borrowed books will be saved, so you'll have them later if you purchase or re-borrow the book. Books are borrowed from a Kindle device, and customers can have one book out at a time. When customers want to borrow a new book, any borrowed book can easily be returned right from their device.