Potted Potter to Premiere in US on May 19th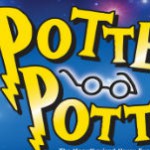 May 06, 2012
Potted Potter, a play which condenses all seven Harry Potter books into a single seventy minute production, will premiere in the US on May 19th. Potted Potter will be performed off-Broadway in New York City in the Little Shubert Theatre from May 19th to August 12th:

Potted Potter has played to sold out houses in Toronto, London, Edinburgh, Australia and New Zealand, and will now make its US debut, beginning Saturday May 19th at the Little Shubert Theatre (422 West 42nd Street, between 9th and 10th Avenues). Opening Night is set for Sunday June 3rd. This limited engagement continues through August 12th only.




Written and performed by two-time Olivier Award-nominated actors Daniel Clarkson and Jefferson Turner, the play takes on the ultimate challenge of condensing, or "potting", all seven Harry Potter books into 70 madcap minutes, aided only by multiple costume changes, brilliant songs, ridiculous props and a generous helping of Hogwarts magic. The show also invites audiences to engage with a real life game of Quidditch, but according to Clarkson and Turner's unique set of rules.


You can purchase tickets for Potted Potter here.