J.K. Rowling Recieves Freedom of the City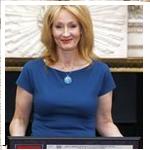 May 08, 2012
UPDATE: Photos from the event are starting to come online and are now available here in our Image Galleries
J.K. Rowling received the Freedom of the City this morning at the Mansion House in the City.Rowling was recognized for her services to children's literature. The Harry Potter books have sold over 450 million copies. Jo was presented with a framed parchment certificate, and joked that she was also entitled to a free pint at the Leaky Cauldron! BBC reports:
She said: "I am prouder than I can say to be given the freedom of the City."
She joked that the honour entitled her to "a free pint in the
Leaky Cauldron and a ten Galleon voucher to spend in Diagon Alley".