Daniel Radcliffe to Star in "The Cripple of Inishmaan" in 2013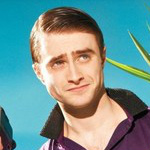 Jun 15, 2012
Daniel Radcliffe will be returning to London's West End in the summer of 2013 to star in the play "The Cripple of Inishmaan":

Daniel Radcliffe read Martin McDonagh's much-lauded play The Cripple Of Inishmaan and knew he had to do it.
Set in 1934, it is about a young man with a withered hand and foot who lives off the west coast of Ireland, and is known by the locals as ˜Cripple Billy'.
˜It's got pathos, heartbreak " and it's very funny,' said Daniel.
On the neighbouring Isle of Arran, an American film-maker is shooting a documentary and Billy feels this is his chance to escape.
You can read more about the play and Radcliffe's feelings on it here.
The play will run from June 8th to August 31st in 2013. Tickets are already available and can be purchased here.