AVPSY Debuts at LeakyCon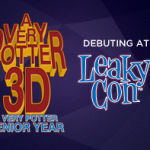 Jul 16, 2012
One year ago today Team StarKid presented A Very StarKid Event at LeakyCon 2011. To say it was a highlight for a lot of our conference-goers is like saying that Hufflepuffs are just okay at finding things.
At this LeakyCon, they are determined to outdo themselves. We are thrilled to tell you that Team StarKid will present a staged reading of A Very Potter 3D: A Very Potter Senior Year at LeakyCon 2012!
This is the first and only time to see this show and it will include nearly every person who has ever appeared in a StarKid production. The show will feature a book by Matt Lang, Nick Lang, and Brian Holden.
Head over to LeakyCon.com for the full story!