Dan Radcliffe to Star in Romantic Comedy, "The F Word"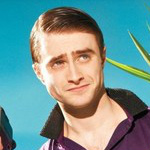 Jul 17, 2012
Variety is reporting that Radcliffe is also set to star in an upcoming romantic comedy entitled "The F Word." The 'f' in the title refers to the state of being in the "friend zone." Radcliffe will be starring alongside Zoe Kazan:

Story follows Wallace (Radcliffe) and Chantry (Kazan), a pair of twentysomethings who meet at a party and hit it off. However, Chantry has a long-term boyfriend, so with the best intentions and a little denial, they decide to confront the challenge of being just friends.
Pic is based on the play "Toothpaste and Cigars" by T.J. Dawe and Michael Rinaldi. Production starts Aug. 15 in Toronto, and additional casting is under way.
You can read the rest of the article here. This is the second new project of Radcliffe's that has been announced this week. Read more about his upcoming supernatural film "Horns," here.