"Goblet of Fire" Actor Eric Sykes Dead at Age 89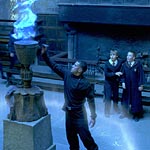 Jul 05, 2012
Eric Sykes, who portrayed Frank Bryce in "Harry Potter and the Goblet of Fire," passed away peacefully yesterday morning. BBC News reports:

"Eric Sykes, 89, star of TV, stage and films, died peacefully this morning after a short illness," said Norma Farnes. "His family were with him."
Sykes found fame in a series of TV sitcoms from the 1950s, including Sykes And A… alongside Hattie Jacques.
Sir Bruce Forsyth paid tribute to the star, calling him "one of the greats of comedy in this country".
"He was universally loved here," the entertainer continued. "He was just one of the funniest men ever."
Comedian Stephen Fry wrote on Twitter: "Oh no! Eric Sykes gone? An adorable, brilliant, modest, hilarious, innovative and irreplaceable comic master. Farewell, dear, dear man."
Our condolences go out to the family.