USA Wins Quidditch Olympics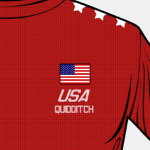 Jul 09, 2012
As reported earlier, the Quidditch Olympic Summer Games took place these last two days in Oxford, England. After a series of excellent games played on all sides, the United States was named Quidditch champions. Oxford Mail reports:
The UK team lost each of its four games before the US team were crowned champions after beating France. About 100 players from five teams were watched by more than 100 spectators in the event which was part of the Olympic Torch celebrations.

"There were quite a few spectators. People seemed to like it. A few people got pretty into it and there was cheering and shouting."
Congratulations to the United States, as well as Australia, France, and Great Britain who all put in great effort!