Two New Clips from the Harry Potter Wizard's Collection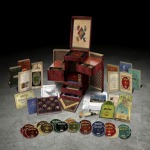 Aug 10, 2012
We have two new clips which will appear in the special features of the Harry Potter Wizard's Collection. The first clip shows how the actors dealt with Chris Columbus leaving after directing the first two films, and how they got along with director Alfonso Cuaron during "Prisoner of Azkaban." You can watch that clip here or below. The second clip shows the merger of traditional and new methods in the art department of the films and you can watch that here or below.
The Harry Potter Wizard's Collection will be released in September 7th in the US and September 10th in the UK:
The Harry Potter Wizard's Collection is a limited edition set containing over 37 hours of special features, including all previously released special features for all eight Harry Potter films. Also included are nearly four hours of exciting, never-before-seen bonus features that offer fans an unprecedented behind-the-scenes look at the creation of the Harry Potter franchise. Wizards and witches everywhere will enjoy the all-new documentaries like "Creating the World of Harry Potter, Part 7: Story' in which J.K. Rowling sits down with the series' screenwriter Steve Kloves and discusses the process of translating the books to the big screen. "Creating the World of Harry Potter, Part 8: Growing Up" incorporates new and vintage interviews with the cast to understand what it was like growing up on the set of the world-famous films, and ends with Daniel Radcliffe's emotionally charged farewell speech to the cast and crew.
Eight pieces of movie memorabilia, designed exclusively for the Harry Potter Wizard's Collection by the graphic designers from the films, give fans a unique chance to bring the artistic details of the world of Harry Potter into their own home. High-quality concept art prints and a colorful fabric map of Hogwarts and the areas surrounding it are perfect for framing. The hard-bound "Harry Potter Catalogue of Artefacts" and the artistic "Label Collection" offer fans a broad look at the intricate details of each film prop. Also included are a blueprint poster of Hogwarts castle, sketch prints from the production designer, a Horcrux locket prop replica and a certificate of authenticity.
In addition to the theatrical release of all eight films, the collection also includes the extended versions of Harry Potter and the Sorcerer's Stone and Harry Potter and the Chamber of Secrets; and the 3D versions of Harry Potter and the Deathly Hallows '- Parts 1 and 2.
Beautifully packaged in a stunning gift box measuring 12-3/4″ x 10-9/16″ x 11-1/4″ and weighing 19 lbs, the Harry Potter Wizard's Collection is the largest collection ever released by Warner Bros.