New Interview from the Set of "Perks"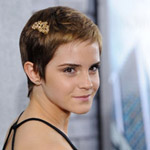 Aug 17, 2012
A new interview from the set of The Perks of Being a Wallflower was released by Buzz Sugar today. A group of reporters were invited to the set of the film adaption of Stephen Chbosky's novel. Emma talked about her first major post-Potter role and acting with an American accent.

Have you read the book, and do you feel pressure to live up to it?
Emma Watson: I read the script first and then I read the book. It was so funny because I read the script and I came back to Brown and I told my roommates that I've just read this amazing script, The Perks of Being a Wallflower, and my friends were like, "Oh, that's my favorite book. So jealous that you get to play Sam. If I was ever going to be in a movie, if I was ever going to play any character ever, it would be Sam." I didn't realize, but similarly to Harry Potter, the books really have this cult following, so that was really interesting, but the response that I get from people who have read the book and really identify with it is pretty intense. It's kind of amazing to be part of another movie product again that has so much love for it in the same way that Harry Potter does.
Ezra Miller: What I feel is a great honor and a great privilege to be able to be involved in something that is of such deep seminal importance for my generation. And no, I don't feel a pressure. I feel a necessity, which, as an artist, is what I want. I think necessity is the mother of all invention. We need " as artists " that mother to validate our actions. And yeah, the very wonderful relationship between the readers of this book and this project, it's only a happy flame beneath us. It's not some sort of massive something that threatens to crush us. Or at least that's how I felt. I've just felt sort of spurred on by the fans, not deterred or intimidated.
Mae Whitman: I read the book a while ago " a few years ago and then, actually, some friends that are on Parenthood with me " Miles [Heizer] and Sarah [Ramos] " it's their favorite book too, so when it started coming back in periphery, I reread it and we all just would talk about it every day, and it's such a seriously special, meaningful book. Like, it means something to everybody that's read it, so to be a part of something like that is really special, and because the people who tell you that they appreciate it really mean it from a really visceral place.
To read more from the cast of The Perks of Being a Wallflower, just keep reading.
How did you get your accent to play Sam?
Emma Watson: I worked with a dialect coach before the movie. I'd rather give a really good performance " obviously I'm hoping that my accent is going to be perfect " but I kind of didn't want that to take over too much. My other castmates have been incredibly supportive; if I ever need to check anything, I'm just like, "Say this," and then they'll say it and I'll be like, "OK, thanks," and that will be it. So, it's been easy.
What is it like working with Emma Watson?
Logan Lerman: She's great. She's really a great person and easy to work with and a fantastic actress. [I am] a big fan of Harry Potter. Yeah, it's really exciting to see her outside of the series and what she's able to do. She's not only pulling it off, but she's blowing people away with her performance.
Ezra Miller: Emma's one of the most severely mind-blowing forces of my peer group in acting right now, and I think based on what's come before this, people just have no idea what she's capable of. She has become, in these short weeks, one of my dearest friends " I think that will be the case forever " and she is the type of artist who is going to make her true self known in time, and I personally look forward to watching an entire population of Harry Potter fans get their minds twisted into small, pretzel-ish knots over what this girl can do. That's exciting to me.
Mae Whitman: I've read every [Harry Potter] book, like gotten them at midnight when they came out, and dressed up. I mean, it was definitely a big deal. I slowly release tidbits to her about how excited I am, but I don't want to let it all come at once. I think she'd get a restraining order or something.
How does the movie differ from the book?
Logan Lerman: They definitely had to trim out some of the details and then make it a little bit neater for for the movie, I mean, just to fit it into a film. But, you know, Steve Chbosky " who wrote the novel, wrote the script " is directing it, so it's very true to the book, and I think the fans of the book are going to be really happy with what Steve has created.
More of the article can be read here.