Video: J. K. Rowling Interview with the BBC and ABC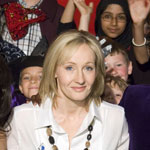 Sep 26, 2012
We now have a few videos from two of J. K. Rowling's new interviews about The Casual Vacancy, which will be published tomorrow! All the videos have spoilers to some degree, so please be aware of that.
The first interview is from the BBC and in it Rowling not only discusses the process of finding the right editor for The Casual Vacancy, but she talks about she might one day write a "director's cut" of the Harry Potter books, and how she isn't ruling out the possibility of another Harry Potter related book. You can watch that interview here or below. For those who don't wish to watch the interview this Entertainment Weekly article deals exclusively with the Harry Potter related information.
We also have two videos from Rowling's interview with ABC. In the first video Rowling discusses the "dark center" to The Casual Vacancy, while in the second video Rowling talks about Fifty Shades of Grey (which has outstripped Harry Potter's record as the fastest selling paperback of all time) and how she hasn't and probably won't read it. You can watch the first part here, the second part here, or both below.
Many thanks to SnitchSeeker for the tip! The Casual Vacancy will be released tomorrow! And if you've already received and started reading your copy please be courteous in the comments and keep them spoiler free for now, thank you!